Belfast. Art and Histories of Northern Ireland
Article published in Italian on "Flash Art" [no. 313, December 2013 – January 2014, p. 21] and here translated in English.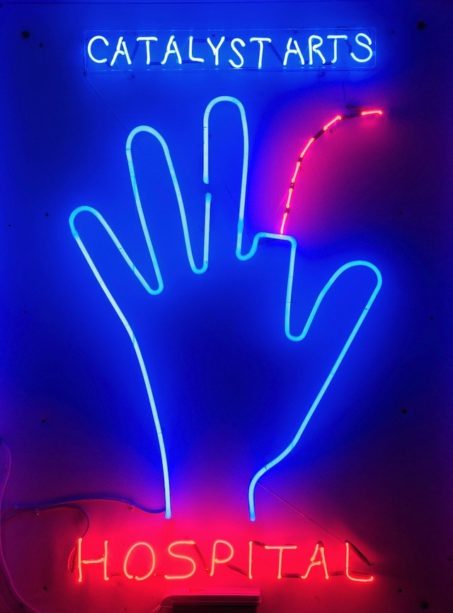 Catalyst Arts was started up in 1993 by a group of young Belfast artists with the aim of creating, exhibiting and promoting local art in Northern Ireland and abroad. The model is that of Glasgow's Transmission Gallery (founded in 1983), from which they took the idea of self-constituting and self-organizing through a collective managing board in continuous rotation. By now Catalyst Arts has seen more than seventy directors take over the role across twenty years (each director remaining for a maximum of two years in the context of a commission made up of roughly ten members a year), and it's still a non-profit organization that finds support principally through funding from the Arts Council of Northern Ireland and Belfast City Council.
To celebrate twenty years of Catalyst Arts, another important Belfast exhibition space, the Golden Thread Gallery (founded in 1998) is hosting a show about it as the tenth instalment of the cycle Collective Histories of Northern Irish Art, begun in 2005. The series aims at giving a portrait of the art of Northern Ireland from 1945 to the present day without presuming to create an official history but, as the artist and director of the gallery (as well as ex-director of Catalyst Arts) Peter Richards says, "with the awareness that more than one version of history exists". And this statement is all the more true on this occasion, since there can be more than seventy interpretations of the history of Catalyst Arts, just as many as there have been directors. The curator, Chérie Driver (who for some time has also been in charge of the archive), declares furthermore, in the publication that accompanies the exhibition, that the selection of the artists and the works betrays not only her perspective but also a curatorial vision which is almost an artistic process in itself. And this attitude isn't surprising, given that here nearly all the curators are also artists.
Visiting the exhibition, the aspects that most emerge seem to be just those that have always characterized Catalyst Arts – but also the whole art system of Belfast – collaboration, collegiality and performativity.