In Support of Black Mountain
Interview with Andreas Kindler von Knobloch in "The Visual Artists' New Sheet", Dublin, n 1, January-February 2018, p. 15.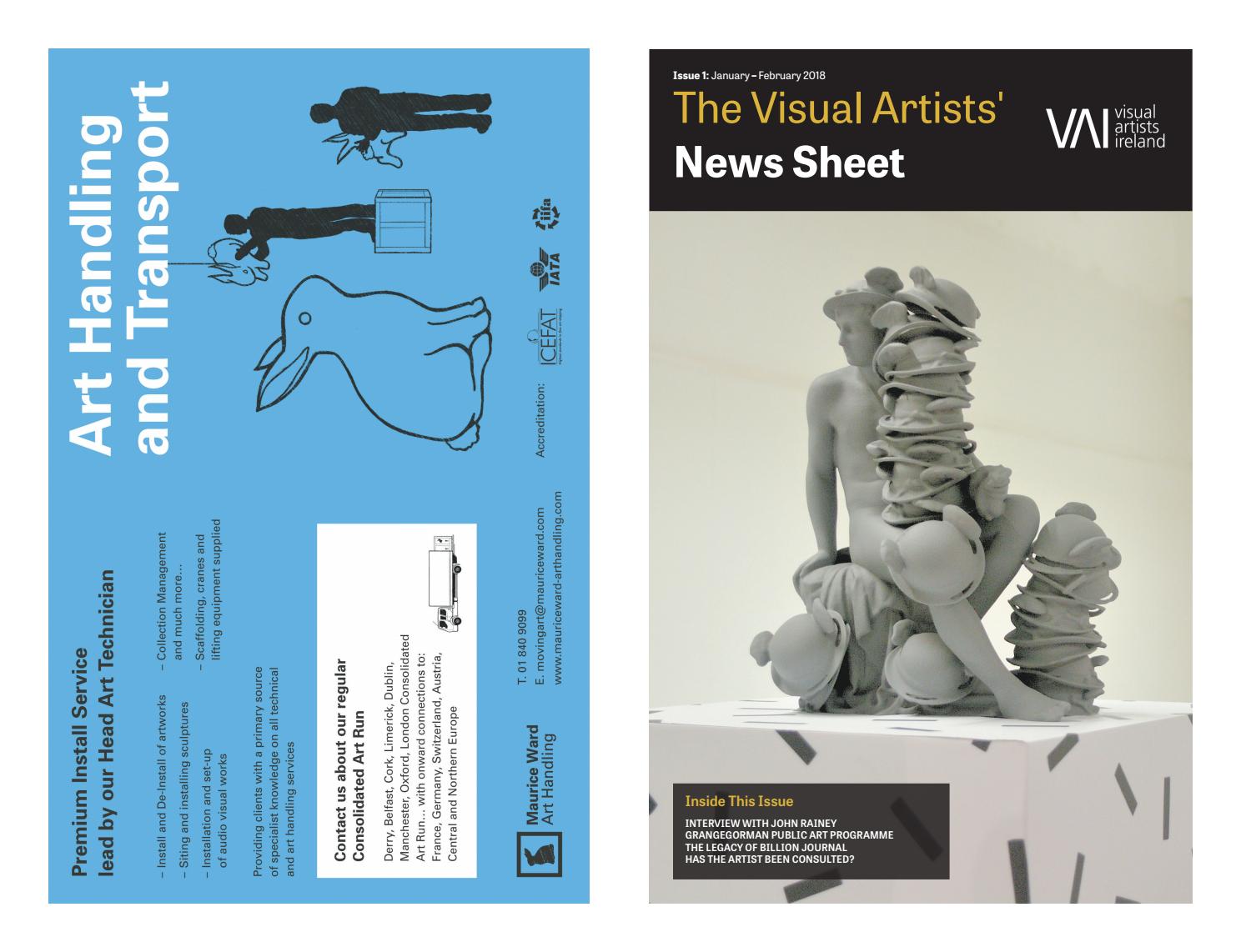 MANUELA PACELLA INTERVIEWS ANDREAS KINDLER VON KNOBLOCH ABOUT HIS PROJECT, 'WE BUILD A FRAMEWORK', DEVELOPED FOR CATALYST ARTS, BELFAST.
Manuela Pacella: We could say that your relationship with Catalyst Arts started in 2009, when you cofounded Exchange Dublin in Temple Bar using a similar artist-led model. Can you discuss how your relationship with Catalyst Arts has developed over the years, with reference to your participation in collaborative projects?
Andreas Kindler von Knobloch: Exchange Dublin was my first direct experience of alternative institutional models used within non-hierarchical arts organisations like Catalyst Arts. Exchange Dublin was founded in June 2009, primarily as a result of the 'Change?' project that Dylan Haskins, Jonah King and myself ran in January 2009, together with other members of the OPW Artist Collective at Project Arts Centre. At the time, Dublin was coming down from the Celtic Tiger high that had commercialised the city and left it almost devoid of artist-run initiatives.
The intention behind Exchange Dublin was to create an open, public space, that could facilitate people of all ages to meet and collaborate together, with the potential to hold exhibitions, gigs, workshops and events. Modeled as an arts centre, but attempting to escape any sort of institutional model, Exchange Dublin had a very particular organisational structure. Inspired, in part, by the volunteer model used by Catalyst Arts, Exchange Dublin was run by an open and constantly changing group of volunteers and members of the public. It was during this time that I became fascinated with the inner-workings of non-hierarchical organisations. Since then, some of my friends became co-directors of Catalyst, while others exhibited or installed works there.
MP: You recently developed the project 'We Build a Framework' for 'Black Mountain' – the last exhibition of the Catalyst Arts 2017 programme. Can you explain the impetus behind this project and how it developed over time?
AKK: 'We Build a Framework' is a project that has been developing in the back of my mind for a long time, possibly since the foundation of Exchange Dublin. Back then, we often talked about how we wanted the structure of Exchange to be an open container – a space with a radically open organisational structure that would facilitate people to come together and create new things. For 'Black Mountain', I wanted to make a work that functioned in a similar way. This structure could have taken a more utopian form, such as a geodesic dome – the famous creation of Buckminster Fuller, which was first developed during his time teaching at Black Mountain College. These domes are super-strong structures that disperse their weight equally through all the supporting members. Even though the dome is a good metaphor for the kind of organisational structures I am interested in, I chose to go with a simpler, rearrangeable, square framework that could work with other, pre-existing forms, or become a module of some larger structure in the future.
The final form came from a drawing by my friend, Will Moss, who I met in Portland, Oregon, while studying for an MA in Applied Craft and Design. When I decided to move back to Ireland, I asked Will if he would like to design a tattoo for me. His drawing depicts four people wearing blue outfits building a Sol Lewitt-style cube in the desert. I later decided to use the drawing as the basis of my site-responsive project at Catalyst. As the idea developed, the outfits became less important and the work became more focused on the assembling of the structure. Even though the steel framework is the primary work, there is a second complementary element – a small, DIY wood-burning stove made from a gas canister, which is installed near the reading materials. The stove creates a hearth and generates much-needed warmth in the gallery at this time of year. It is also creates a more passive social space that complements the action of assembling the steel framework.
MP: In 'We Build a Framework', you make interesting parallels between the Catalyst constitution and systems of architectural support. Can you explain the thought process behind this approach?
AKK: From working in Exchange Dublin, I developed an interest in creating frameworks for working together – organisational structures that are as open as possible to allow engagement with a minimal yet supportive core structure. The Catalyst Arts model has operated for almost 25 years. Catalyst is managed by five to ten co-directors, each serving a two-year term. The terms are staggered, so there is never a completely new directorship and everyone is always either being trained or training in newer members. The human relations that arise from this kind of model have been a big inspiration in my practice. In particular, the tension between utopian aspirations and the very real day-to-day tasks and negotiations that are necessary to make these kinds of initiatives work.
MP: In keeping with the curatorial concept of 'Black Mountain' (which focuses on alternative education), you have created a context-specific framework for 'learning together through time and space'. The project's title also stresses the idea of working collectively. Can you expand on what the concepts of 'learning while doing' and 'being together in action' generate within this project?
 AKK: 'Thinking through making' is the tagline for the Applied Craft and Design programme and it was certainly one of the greatest lessons I took from my time there. It refers to the dialogue between an artist and their material, or perhaps more importantly, the perpetual dialogue within one's own practice, characterised by research, making, reflecting, responding and re-making, as well as being open to unexpected outcomes and allowing these to inform your practice. This process requires openness – a crucial aspect of collaboration. Doing things together transforms the dynamic between people and can be a way to get past initial social awkwardness and create friendships or bonds. This connection can come from something as simple as lifting something heavy with another person. In my previous work on support, I started to think of helping someone, or working together, as the recipe for a kind of conviviality or symbiosis.
MP: Perhaps you could also discuss the notion of 'support' and your conceptions of giving and receiving?                            
AKK: Support is an ongoing theme in my practice. In recent work, I looked at support as an inherently useful and pragmatic action. Support holds up, helps out and shares the load. Support is utopian – it works towards making things better; it helps things become and facilitates coming together. Support implies a giving and receiving that is often unregulated and that goes beyond conventional economies.
MP: How did moving to America alter your practice, with regard to creating a synthesis between the personal and the social?
AKK: Before moving to America I had begun to doubt my practice and was not sure if I should give up on art all together and work at something more practical like design. This was my reason behind choosing an MA that focuses on fine art as well as applied craft and design. The course itself was designed by an architect and it follows the practicum format of an architectural MA, so it contained many of my interests in one neat package.
The abundance of craft-based design in Portland Oregon made me realise that making furniture or ceramics to sell in design shops was already a saturated field. When left to my own devices over the two years, I was way more excited about structures that question our social relations, than I was about trying to become a design entrepreneur. I did, however, learn many practical skills while I was there and have now incorporated ceramics and metalwork into my practice.
MP: Can you discuss any theoretical influences that underpin your work?
AKK: Much of the theoretical foundation for my work on support comes from Celine Condorelli's book Support Structures. This book had a pivotal influence on my final MA project, 'In Support'. The themes of friendship, collaboration, architectural infrastructure and support have since resonated throughout my practice.
MP: What did you learn during your recent residency at Catalyst and how has this affected your current and ongoing research?
AKK: The residency in Catalyst was really useful in beginning to understand this new work. The activity of collaboratively assembling the work within the warm social space created by the fire, made me see that the finished framework was far less important than the experience of working together to assemble it. The opt-in approach to taking part in the assembly shifted the onus onto participants to become involved. This element of choice is something I would like to explore further in my practice.