Juliet Jacques
Fiction, memoir, performance
AlbumArte, Rome. April 26th, 2018
Never humiliate or sensationalise yourself or others known to you, and do not write anything unkind about your own body, although you may test its limits: think of confessional journalism, and everything else in your life, as a form of performance art. Juliet Jacques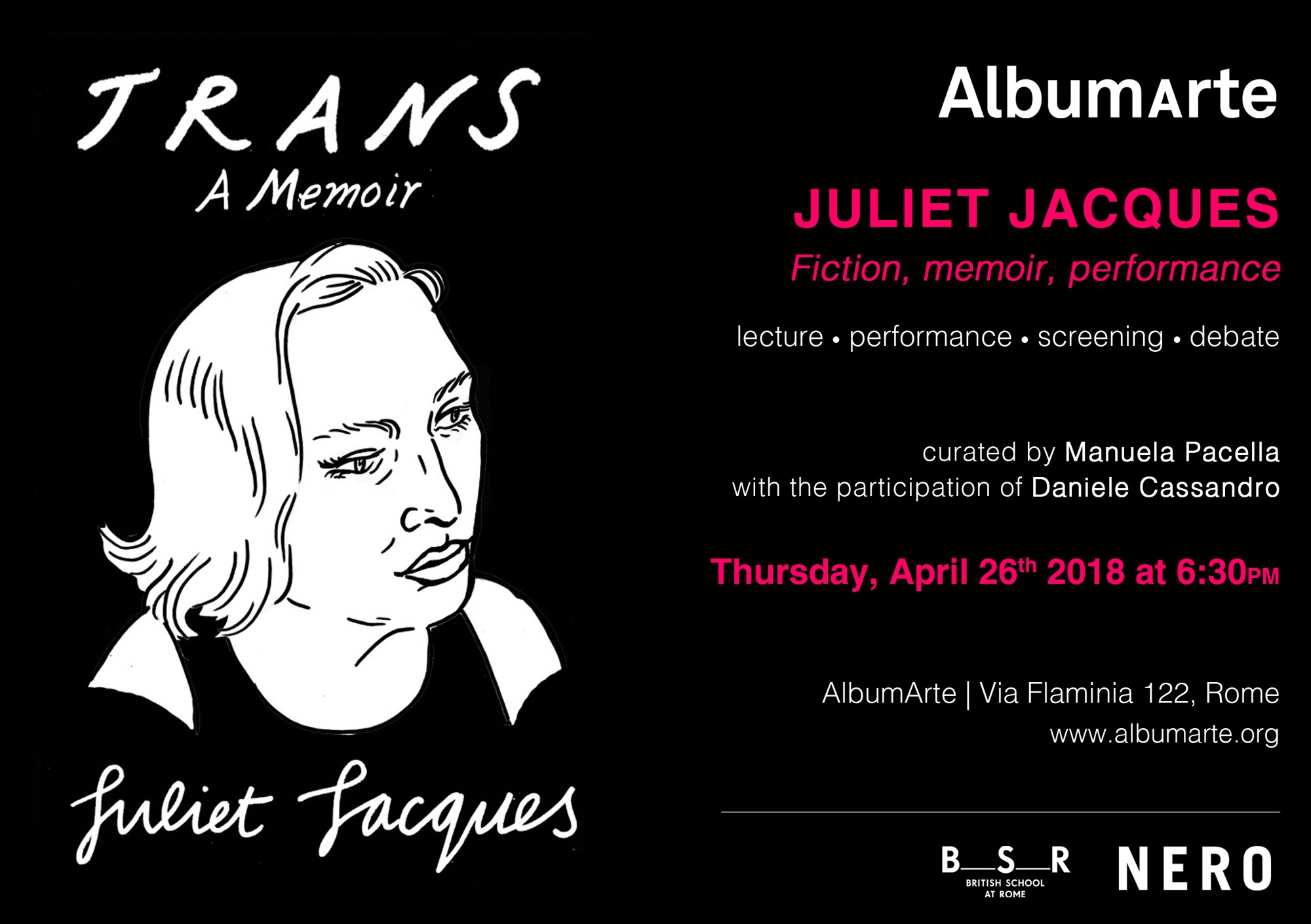 On the 26th of April AlbumArte hosted, for the first time in Rome, the British journalist, critic and writer Juliet Jacques (1981); the event included a lecture, as well as a performance and a debate, curated and organized by Manuela Pacella (independent critic and curator) and chaired together with Daniele Cassandro (editor of Internazionale's culture section).
The evening's program was divided in three parts:
Live reading of an extract from the book Trans: A Memoir, published by Verso in 2015, and the entirety of the text from The Woman in the Portrait, commissioned by Tate Modern in 2014 for the event Transpose. Duration: approx. 30 min.
Italian premiere screening of the video You Will Be Free (2017). Duration: approx. 10 min.
Performance adapted from the text Sertraline Surrealism (2016). Duration: approx. 7 min.
Followed by a debate between the author, Manuela Pacella and Daniele Cassandro.
The debate focused on the theme of the constitution of identity through the process of writing and on how to present transgender experiences as more universal than usually perceived. It also analyzed Juliet Jacques' approach to writing, which is partly journalistic, partly fiction, partly in the style of a diary, referable to "theoretical fiction" – to quote a definition coined by Joan Hawkins for Chris Kraus' writings.
Additionally, the author discussed the topics of her doctoral research in Creative & Critical Writing at the University of Sussex, such as a volume of short stories focused on transgender people in Britain from the 19th century to present days.
The two readings, the screening and the performance were held in English; texts in the original language with the Italian translation were available at AlbumArte.
Read and download the brochure with all the texts read and performed by Jacques during the event. The texts are in English with the translation in Italian on the opposite page.
The event was organized in collaboration with the British School at Rome and the media partnership of NERO.
Sertraline Surrealism was translated in Italian and published for the first time in Italy on Not the 24th of April 2018.